The internet can be incredibly creepy. Much of my blog material comes from weird freaks of nature who I meet form online dating websites. But, some of my closest friends are people I've met from various online forums. The Weight Watchers message boards (shout out to my number one fan, Elizabeth!), Livejournal (don't judge.. too much), and now Twitter. Somehow I've been fortunate enough to become part of this incredible running community there, the NERTs (New England Running Tweeters).
This morning was the Oak Scare 5k race in Brighton. A few of my fellow NERTs and I had decided to have a meet-up at the race. The plan was to turn the race into my long run by adding 7 miles before, doing the 5k and then running a little under 2 miles to the diner. Those pre-race miles felt easy, partially because I was so excited to get to the race and meet up with the group!
Ashley
and
Mary
, my Twitter-turned-real life friends were running. I was also able to meet Tom (Mary's husband) and Doug and Nina. It was great to put faces to the avatars. What's amazing to me was that here I was, talking to people I'd never
really
met and yet we were all talking like old friends. Ashley, Nina and I decided to be the three blind mice and let me tell you, we were quite adorable:
Ashley, Me and Nina pre-race
stolen from Ashley!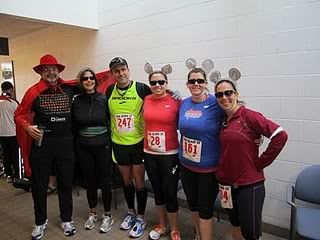 Group shot! From left to right:
Tom, Mary, Doug, Nina, Ashley and Me
also stolen from Ashley!
The race itself was fun. It was definitely relaxed - no timing chips or anything like that. I had already decided that I wasn't going to PR, since I was using this as part of my long run, so there was no stress for me. I was surprised by some of the hills along the course but for the most part the race flew by. Ashley, Nina and I stuck together and made sure that our glasses and ears were in place when we crossed the finish line together.
Also, I realized that I had run through Somerville, Cambridge, Allston, Brighton, Newton and Watertown. I was all over the place today. I was rewarded for my 12.1 mile run with chocolate chip pancakes, coffee and some great company.
So, my question is, when's the next run/tweetup?!