I've just spent the last two or so hours crying, actually sobbing. Why do you ask? No one died. No one is in the hospital. I still have all of my limbs intact. No, I have been crying for the last 150 minutes because I just got the worst haircut of. my. fucking. life.
I can admit that this is incredibly vain of me. But I've always really loved my hair. It's super dark. It's thick. It's curly. It's just... pretty. Daniella at a salon in Somerville changed that tonight when she completely ignored the THREE PICTURES OF MYSELF FROM APRIL that I brought in and HACKED OFF SIX INCHES OF MY HAIR. She left me crying in the chair, looking like a cross between a fifty year old soccer mom and a little boy whose mom cut his hair by placing a bowl on top and snipping with those scissors that can cut through chicken.
I walked in today SO excited for my haircut. This is the description I gave her: just above my shoulders when it's dry/straight, some layers, a few angles in the fact, and a slight sidebang. She said she understood and went to work. I was facing away from the mirror for most of the cut but I should have said something when I felt as though she had been cutting for a little too long. I didn't end up seeing myself in my helmeted glory until she was done. And HO-LY SHIT was I displeased. She could tell that I wasn't happy, mostly because I started crying right there in the chair and the conversation went something like this
Me: It's short. Shorter than we discussed.
Stupid Asshole Dumbass Stylist: This is the length we agreed on!
Me: It looks like a helmet. A short helmet.
SADS: It's wicked cute! And look, so long in the back!
Me: I look like a soccer mom. And really? Long in the back? No.
SADS: Straighten it when you get home, I'd do it but I'd have to charge you
At this point I turned and gave her a look that, I swear, if lasers could have shot out of my eyes, bitch would have been dead on the floor in a nanosecond.
SADS: Ok! I'll go get the straightener. No charge.
After..
SADS: SO MUCH BETTER! Wait! Let my tease the back for you
Me: No. Don't touch my hair again, thaaanks.
SADS: Do you like it? You know what you should try? One of those cuts that's shorter in the back and gets longer towards the front. It'd be all crazy and curly and it'd be WICKED CUTE!
Me: No.. I don't think.. No, I need to leave here right now.
SADS: If you have any problems, just call.. and uhh.. don't write me a bad review on Yelp!
Then she did this awkward laugh and it took every fiber of my being not to take the scissors from off the counter and stab her repeatedly. And what's worse, I paid for the haircut. AND I TIPPED HER? Why? Because as upset as I was, I can understand that people who work in the service industry make no money but I still wish that I had pitched a fit right there.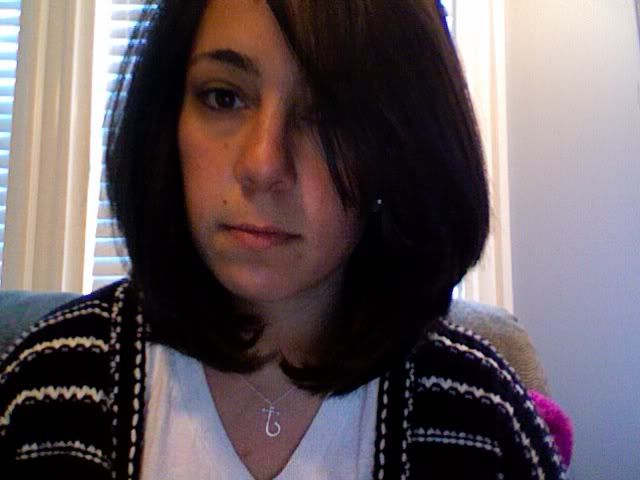 You be the judge - am I completely overreacting or did she give me the WORST haircut in the history of mankind? If you can't tell which is the haircut from today then I'm basically going to go throw myself into traffic. I showered and tried to see if I'd like it better curly but I refuse to post those pictures because I couldn't stop sobbing the entire time. So you'll just have to wait until I can pull myself out of this foul mood to see how it looks curly.

Before you all email me and say "ZOMG NOT A BIG DEAL" - I get it. There are more important things going on in the world and way bigger tragedies than an awful haircut. I will survive, I will be fine, my hair will grow back, but until then I AM PISSED AS HELL and I cannot wait to call tomorrow and DEMAND a refund.